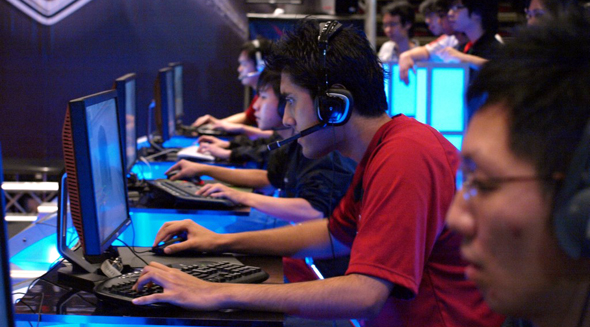 52', proposed by Jonathan Carlon.
113 million hardcore fans throughout the world

147 million occasional TV viewers

$252 million income worldwide

$71 million projected jackpot for all competitions and tournaments.
No, these numbers do not relate to some traditional sport like football or basketball. They come from another domain which was launched some ten years ago. A "sport" that took in over $20 million in 2014, overtaking numbers generated by the music industry. Major brand names such as Coca Cola, Red Bull, American Express, Intel and Samsung all try to put their hands on it by sponsorships.
I am talking about eSports, also called competitive games, egames or pro(fessional) games, some kind of video games competition where pro gamers battle internationally to obtain the highest rankings and prizes.
Thanks to its worldwide fan base expanding rapidly, a well organized business plan, eSports has become a real industry. So real that participants now have access to US-P1 requests, up to now reserved to professional athletes.
How did the eSport circle get to grow that big? Which factors came into play? Especially, who is hiding behind the screen of pro gamers? Who are the young stars of this new genre and what course are they following? We immerse ourselves in an exceptional world where these virtual arena gladiators use a keyboard and mouse as weapons.